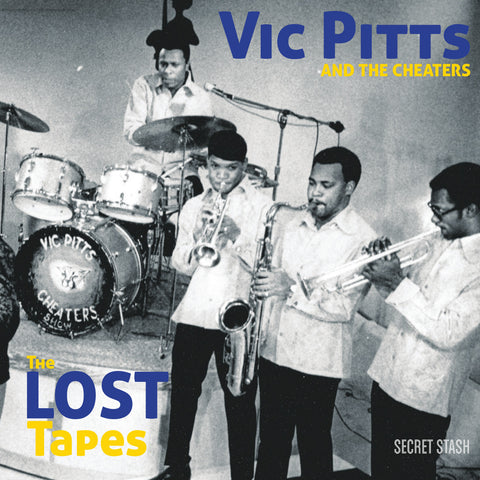 TRACK LIST/AUDIO SAMPLES
Side A
Side B
The first 200 copies of The Unreleased Tapes on limited edition red vinyl are sold out!! Standard black vinyl and CDs are still available!
 
For almost 45 years a complete album of Vic Pitts & The Cheaters tapes has been forgotten, waiting to be released until now. In the late 1960s, Vic Pitts & The Cheaters were one of Milwaukee's top R&B bands. They had their own TV show, played some of the city's biggest clubs, and backed up big name acts. Between 1969 and 1970 they recorded over a dozen songs with producer Andre Williams at Chess' Ter-Mar Studio. The results show why they were such a popular live act; some tracks reveal their roots as James Brown fanatics, others relate the happening sounds of Sly & The Family Stone and Chicago's first record. Highlights include an early instrumental version of their sought after "Loose Boodie," a funked up cover of Herbie Mann's "Comin' Home Baby," and a soulful re-imagining of Neil Young's "Down By The River," among many others. As misfortune would have it, the album never saw the light of day.
 
Van Patterson, guitarist with the Cheaters, recalled the fate of the album. "Andre Williams wanted us to cover 'River Deep' and use it as the lead single for the record." Williams saw an opportunity, as the song was clearly a hit – it had reached #3 in the UK charts – but no one had made noise with it in the US. The Phil Spector produced Ike & Tina Turner single was originally released in 1966 and barely cracked the US top 100. In the months that followed, the "River Deep-Mountain High" album was abandoned and Spector went into retirement. Fortune was not on the Cheater's side, though. In late 1969, after they recorded "River Deep," Spector and A&M released the "River Deep-Mountain High" album for the first time in the US. According to Van, the Cheater's album lost momentum and before long Andre Williams took off for California. Over time, the band forgot the album even existed. To respect the karmic power of "River Deep" – it both derailed Phil Spector's career and the Cheaters' album – Secret Stash has omitted the track from the album.
 
We proudly present the first issue of these previously unreleased soulful and funky tapes. Culled from interviews with Vic Pitts and several members of the band we have put together a LP gatefold filed with photos and liner notes, and a CD with 8 page booklet.