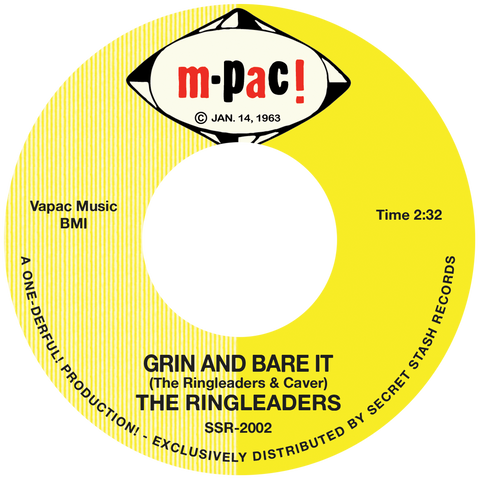 TRACK LIST/AUDIO SAMPLES
Side A
Side B

 
The Ringleaders' "Grin And Bare It" b/w "I've Got To Find My Baby" kick off a series of 45 releases to be issued in conjunction with The One-derful! Collection, a forthcoming series of six compilations marking the first in-depth look at brothers George and Ernie Leaner's Chicago based One-derful! group of labels: Mar-V-Lus, M-Pac!, Halo, Midas, and Toddlin' Town, and One-derful!.
 
For the last two years we have worked closely with the Leaner family while transferring their 250 master tapes. During this process we were thrilled to find songs from The Ringleaders among the label's many unreleased tracks. Furthermore, we were amazed by the quality of these unreleased gems. "Grin And Bare It" is uptempo hard soul at its finest combining a jagged guitar hook, solo lead vocal, and group harmony refrains. It is a long lost soul stomper. The flip, "I've Got To Find My Baby," provides a taste of sweet soul slow cooked to perfection.
 
Hailing from Saginaw, Michigan the Ringleaders first recorded for George and Ernie Leaner in April of 1966. Their sole release for M-Pac! eventually caught on in the Northern Soul scene and today copies sell for hundreds of dollars. Adding to the group's lore, two acetates with the unreleased tracks "All of My Life" and "This Is Goodbye" surfaced in the UK in the 1980s becoming holy grails of sorts, and cementing the Ringleaders as Northern Soul heavyweights. Presented here for the first time are two additional unissued tracks from The Ringleaders. Eight months after their first release, the Ringleaders recorded "Grin And Bare It" and the following month, January of 1967, they tracked "I've Got To Find My Baby" in their final session for the Leaners'. Although these are unreleased tracks, we have faithfully reproduced the M-Pac! label to pay homage to how they would have looked had they been released in 1967. This is just a sampling of many great tracks to follow as part of The One-derful! Collection, so stay tuned!