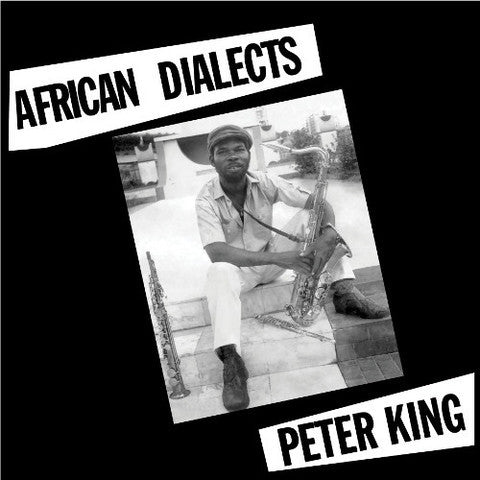 TRACK LIST/AUDIO SAMPLES
Side A
Side B
 
Shortly after African Dialects was recorded by Peter King in 1979, the artwork and liner notes were lost.  It was eventually released with substitute packaging.  In early 2012 we recovered the original art slick and master initially intended for release . This reissue is a recreation of how the album was originally intended to be (as opposed to the alternate version put out by Grandstar).
 
The 1970s saw a seemingly endless amount of funky music coming from Nigeria, but very few recordings were as masterfully crafted or skillfully executed as the music of Peter King. In particular, African Dialects delivers raw emotion via relentless grooves and unique melodies culled from years of playing many styles in pubs around the globe.
Born in Enugu, Nigeria in 1938 King eventually moved to London to study at Trinity School of Music, the same institution Fela Kuti and Ebo Taylor attended. It was in London that King would master jazz and R&B. In the mid-sixties his band, The African Messengers, was hired as the backing band during European tours by The Four Tops, The Temptations, and Diana Ross.
In 1969 King moved back to Nigeria. He quickly assembled a new band called The Voice of Africa and set up residency at the Kakadu Hotel in Yaba. There they would regularly share the stage with Fela Kuti and his band, Africa '70. In 1971 Peter King returned to London and recorded a string of popular records ranging from highlife to contemporary jazz. In 1979, he recorded one last record, "African Dialects," before moving back to Nigeria later that year. The record is a HEAVY blend of Afrobeat, Afro Funk, and Caribbean sounds. After the record was complete, King gave a sub-master and the album art slick to Plastic Fantastic Records to release. Unfortunately, they never released the record. Soon after Peter's return to Nigeria the record was released on the newly formed (and short lived) Grandstar Records. Because Peter had already given the artwork to Plastic Fantastic, the Grandstar pressing was released with alternate album art and liner notes. The standard edition LP pressing includes an insert packed with the same liner notes and photos from King himself as the limited edition gatefold album. The CD pressing comes in a digipack with a booklet also containing the same notes and images.