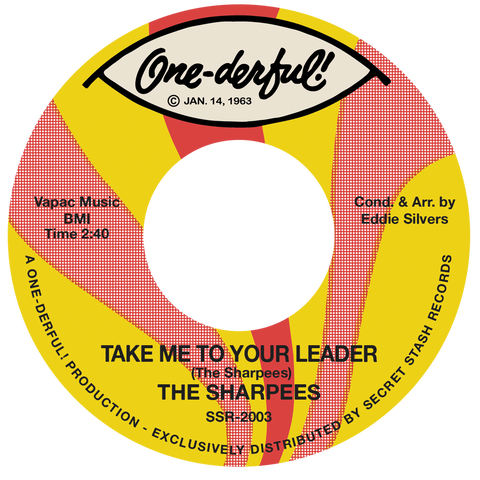 TRACK LIST/AUDIO SAMPLES
Side A
Side B

 
The Sharpees "Take Me To Your Leader" b/w "Darkness Of The Night" is the second in a series of 45s released in conjunction with The One-derful! Collection, a forthcoming series of six compilations marking the first in-depth look at brothers George and Ernie Leaner's Chicago based One-derful! label group: Mar-V-Lus, M-Pac!, Halo, Midas, and Toddlin' Town, and One-derful!.
 
While transferring the Leaner family's 250 master tapes, these unreleased tracks from The Sharpees stood up and demanded to be released. This pair of previously unreleased soul sides includes a relentlessly driving dance number and a stunning ballad full of beautiful vocal harmonies.
 
The Sharpees, led by guitarist Benny Sharp, were one of St. Louis' most noteworthy R&B groups, with multiple members spending time performing and recording with Ike & Tina Turner. In 1965, they followed fellow St. Louis acts The Five Du-Tones and Alvin Cash north to Chicago and signed with One-derful! Records. Releasing songs like "Do the 45" and "Tired of Being Lonely," they cracked the R&B charts and established a name in the US and overseas.
 
These two unreleased tracks were recorded nearly a year after the group's first session at One-derful!. To respect these remarkable recordings and the label that produced them, we have faithfully replicated the One-derful! label to make sure this record not only sounds, but also looks the way it would have, had it been released in 1967.
 
This is just a sampling of the many great forthcoming tracks from the One-derful! Collecton, so stay tuned!