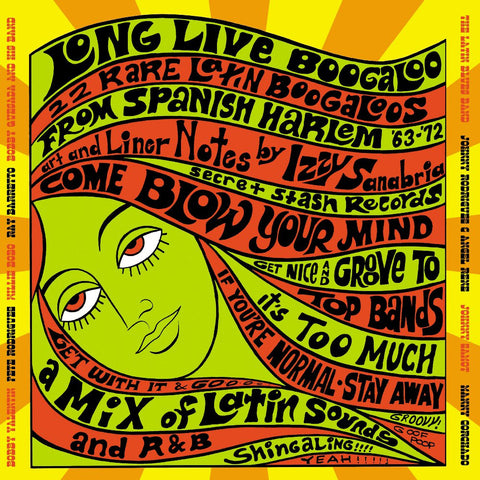 TRACK LIST/AUDIO SAMPLES
Side A
Artist:     Johnny Rodriguez & Angel Rene
Artist:     Ozzie Torrens
Artist:     Bobby Valentin
Artist:     Manny Corchado
Artist:     Louie Ramirez
Artist:     The Latin Blues Band
Side B
Artist:     Herbie Oliveri and The Latin Blues Band
Artist:     Bobby Quesada And His Band
Artist:     Pete Rodriguez
Artist:     King Nando
Artist:     Johnny Zamot
Side C
Artist:     Louie Ramirez
Artist:     Bobby Valentin
Artist:     Willie Bobo
Artist:     Johnny Zamot
Artist:     Bobby Quesada And His Band
Artist:     Johnny Rodriguez & Angel Rene
Side D
Artist:     Lenni Sesar
Artist:     George Guzman
Artist:     Monguito Santamaria
Artist:     La Cucaracha Brass
Artist:     Ray Barretto
In the mid 1960s Latin teenagers in New York's Spanish Harlem neighborhood created a new style of music called Latin boogaloo. The sound was a mix of the Cuban music they grew up with and American R&B like James Brown and Hank Ballard. It quickly caught on and before long the young purveyors of this new sound were taking business from the likes of Tito Puente, Tito Rodriguez, and Eddie Palmieri. Soon the established acts reluctantly joined the craze and recorded a smattering of Boogloos. However, many of them were not happy about it. In general they felt it was beneath them. Eventually a small group of the most powerful people in the Latin music business conspired to kill off the Boogaloo and make way for the burgeoning Salsa craze. Concert promoters, DJs, and venues were bribed to turn away any and all Boogaloo business. As soon as it came, it left.
Secret Stash Records is proud to present this
double LP compilation
of
rare
and hard to find
Boogaloos
. Each track has been selected with the help of veteran Boogaloo producer Bobby Marin. To help tell the story of the untimely demise of the genre, Secret Stash enlisted the services of legendary concert promoter and illustrator Izzy Sanabria (the man responsible for the artwork on most of Fania's releases) to write liner notes. Additionally, all of the artwork for the album is comprised of rehashed versions of Sanabria's now famous Boogaloo concert posters of the 60s. As always, each hand numbered, hand assembled double LP set includes a free download of the entire album and a re-sealable dust bag.
The lim