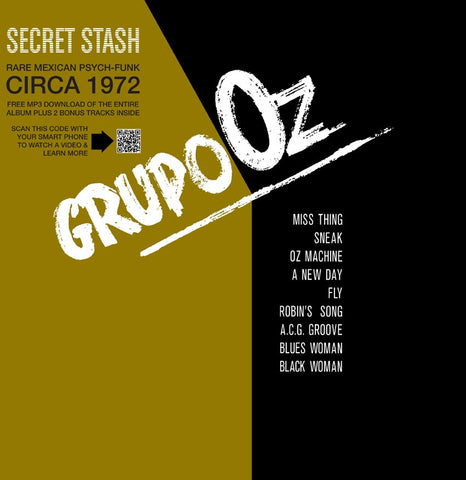 TRACK LIST/AUDIO SAMPLES
Side A
Side B

In April of 2010 Secret Stash Records spent a week in Lima recording Peña and digging up tracks for Peruvian Funk. While searching through thousands of records for rare Peruvian grooves, we stumbled over some great funky Mexican records. Our favorite was Grupo Oz's "Miss Thing" LP. At times, the raw grittiness of it reminded us of early Funkadelic records (staples around the SSR offices).

In 1971 a group of studio musicians calling themselves Grupo Oz in Mexico City got together and recorded a collection of original psych-funk tunes in their home town. They called the album, "Miss Thing." Their label, Discos Raff (Three Souls In My Mind, La Cosa Nostra, El Ritual) had high hopes for the skilled players. Not only were they some of the most solid players in Mexico at the time, but they created their own sound rooted deeply in American funk and soul. Their songs were all in English and they actually sounded natural singing in English. Discos Raff orchestrated the release of the record in Latin America as well as Spain, but always kept the US market its top priority. In fact, most of the 1,500 units that were pressed ended up in the US. By early 1972 the band's crossover success hadn't materialized and the label ceased all promotional efforts for the record. All of the players went back to their usual studio work and Grupo Oz disappeared forever. Today however, the legend of the psych-funk band from Mexico City has spread throughout the world. Now, original pressings of their one and only LP sell for $200+ on ebay.

This high quality reissue comes with a free download of the entire album plus two bonus tracks. It is wrapped in a custom die cut obi to add a new design element without compromising the integrity of the original design and comes sealed in a resealable dust bag.