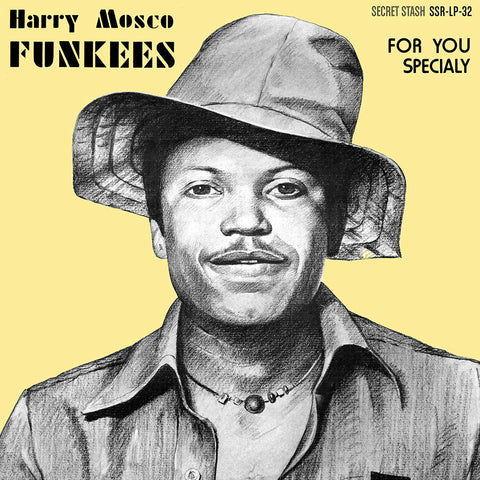 TRACK LIST/AUDIO SAMPLES
Side A
Side B
The first 350 Limited Edition copies of For You Specially on Superman Blue vinyl with limited edition blue screen printed jackets are sold out!! Still available on standard black vinyl and CD
 
In the early 1970s, Harry Mosco formed the now legendary funk-rock band, The Funkees. In search of greater opportunity and a wider audience, the group moved to London in 1973. Four years and two albums later they disbanded. Meanwhile, back in Nigeria, prominent businessman G.A.D. Tabansi was interested in getting into the music business, and signing the Funkees was his top priority. He traveled all the way to London to meet with the band only to find out they'd broken up. Tabansi returned home with no record deal.
 
Mosco had already formed a new group called Africanium with drummer/singer Willie Bestman. Later that same year (1977), they recorded an album at TMC Studios in London. It was originally intended for release by EMI, but instead Mosco licensed the album, titled For You Specially, to Mr. Tabansi for release on his new label.
 
In an attempt to make the album more commercially viable, it was released under the artist name Harry Mosco rather than Africanium (a largely unknown band). In an even further attempt to appeal to the masses, the word FUNKEES was printed on the cover to help consumers make the connection between Mosco and his former band.
 
Despite Tabansi's attempts to capitalize on the success of Mosco's previous recordings with The Funkees, For You Specially was released with very little commercial success. Undaunted by the poor sales of their first attempt, Tabansi and Mosco tried again and released Country Boy in 1978. It would go on to become one of the best-selling Nigerian records of all time. To this day, many people mistakenly credit Country Boy as Mosco's first solo record. In fact, before his death in 2012, Mosco told Uchenna Ikonne (co-producer of For You Specially reissue) that he himself had forgotten all about For You Specially. Mosco did however recycle some of the songs from that album in releases during the 1980s.
 
We are proud to present the first ever reissue of this rare Nigerian funk gem from one of the most influential musicians in the genre. Available on LP and CD, careful attention has been made to preserve even the smallest of idiosyncrasies of the original release, including the misspelled "Specialy" on the cover.